Hot Water Pressure Washer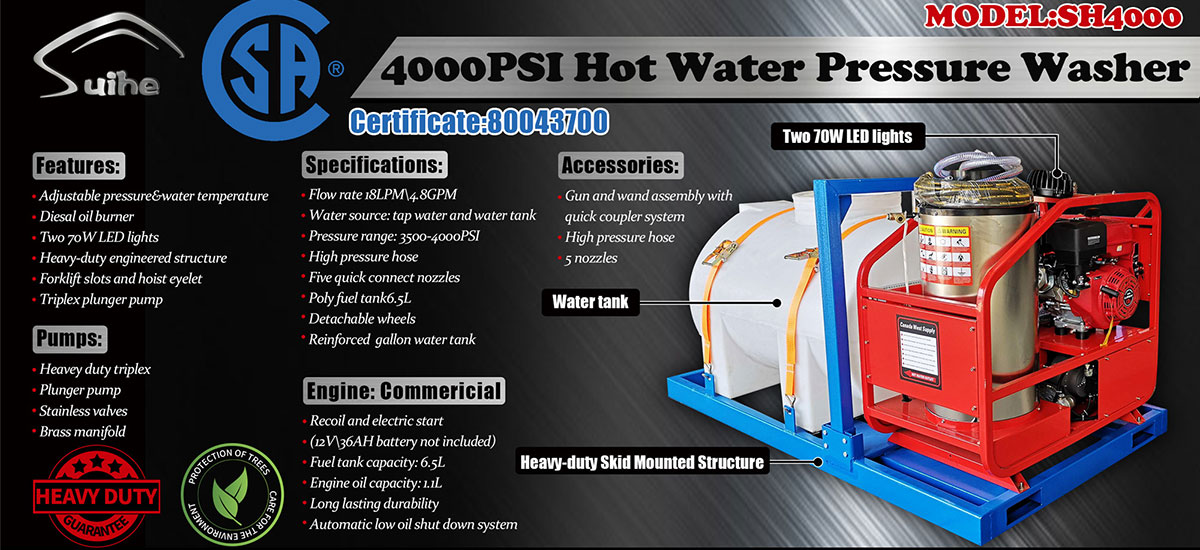 Why Choose a Hot Water Pressure Washer?
You'll want to make sure you choose a hot water pressure washer or industrial power washer if the surface you are cleaning contains any type of grease, grime or oil. Just like doing your dishes, cold water only moves oil around, but doesn't clean it away. Our hot water pressure washers are heated with diesel and they are designed to blast away tough grease & grime.
Applications
Vehicle cleaning
Equipment and machinery cleaning
Workshop cleaning
Cleaning outdoor areas
Service station cleaning
Swimming pool cleaning
Cleaning of sport facilities
Cleaning in production processes
Cleaning production systems
Specifications
Powered by diesel
Diesel tank capacity: 22L
Water temperature regulation range: 50-90℃
Powered by gasoline
Gasoline tank capacity: 6.5L
Engine manufacturer: Lifan Industry(Group)Co., Ltd.
Engine service life: 5 years
Pressure regulation range: 50-250Bar/Mpa
N.W.:185kg
Dimensions(L x W x H): 1020*750*1020mm
*Recommended maximum duration of use: 5 hours/day
Features
Automatic switch-off of motor and pump when the trigger gun is closed.
High-pressure trigger gun with zero holding force for fatigue-free operation
Robust, long-lasting quick-release lock
High-pressure hose with rotatable connectors
Power nozzle
Pressure switch control
Dry running protection
Certificate
Certificate number: JCLGS-3892gm-011
Certificate type: certificate of conformity with the clean air act
United states environmental protection agency 2018 model year